When it comes to picking out hardware for cabinets, drawers, and doors… It's easy to get overwhelmed by all the different options. Because there's not only variety when it comes to the brand and design, but there's a lot of options for materials as well.
For instance, acrylic knobs (which we'll be discussing today) are just one of many different types of knobs that exist. So what makes them different? And if you do decide to use them in your home, where should you look?
Well, we'll be answering all those questions and more in today's article! So let's jump in…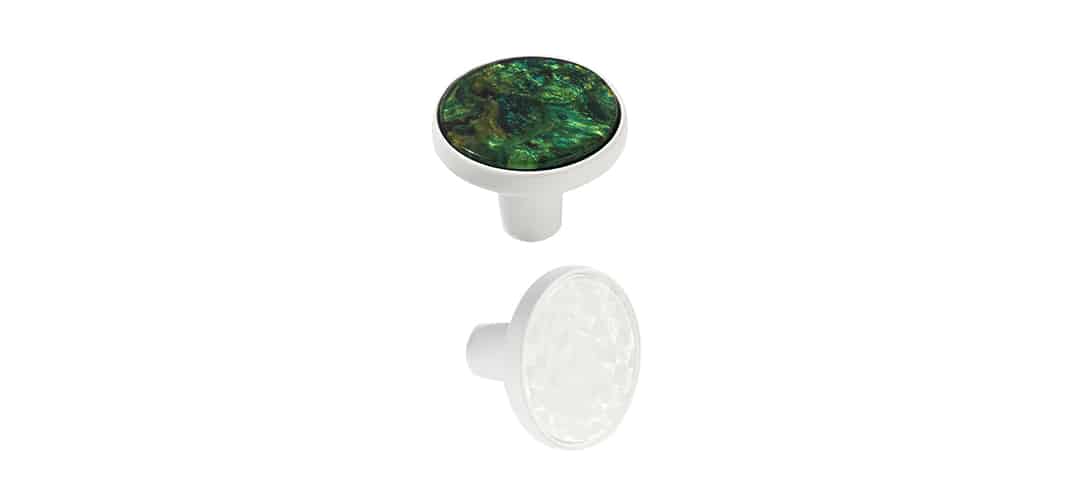 Acrylic knobs, for those that don't know, are popular alternatives to knobs made out of more high-end materials like glass or metal. Since acrylic, a type of plastic, can easily be made to resemble them.
And furthermore, because acrylic is just plastic… Knobs made out of this material are often more durable and cost effective than glass, metal, or ceramic knobs.
15 Best Acrylic Knob Brands In The World
And now that we have that definition out of the way, let's talk about the top brands in the world that produce acrylic knobs!
Liberty Hardware
Liberty Hardware has been in the industry for a long time, since 1948 in fact, and because of this… They've been able to truly perfect their craft.
So not only are their door knobs of top quality, but they take pride in creating exactly what their community wants to buy!
There really is no downside to this brand; except that because of their reputation in the industry, some of their acrylic options are a bit pricier than other brands.
Shinyhandles
Shinyhandles is a hardware manufacturer that has several different lines, including Laurey Cabinet Hardware, which contains a beautiful selection of acrylic knobs.
This brand has grown in popularity in recent years, but they are considered fairly upscale. Meaning that they're high quality but high price, and therefore best suited for custom kitchens and builds.
GlideRite Hardware
GlideRite Hardware creates a lot of different products within the industry, but rest assured that acrylic knobs are definitely a part of their selection. Along with pulls, hinges, drawer slides, and more.
This means that if you like any of their acrylic knobs, you could also get additional hardware you may need from the same manufacturer. Which ultimately will make things easier for you.
Much like the last entry, there aren't really downsides to using this brand.
Amerock
Amerock is an even older hardware brand than Liberty, and was formed in 1928. Since then, it's been the recipient of awards for its beautiful hardware.
And of course, among their selection of hardware are some really great acrylic knob options.
However all of this does come with the downside of a potentially high price tag compared to similar brands.
Richelieu Hardware
Richelieu Hardware describes themselves as a market leader when it comes to specialty hardware, and they do have a wide variety of products to back that claim up!
One of the biggest pros of using this brand is that you'll have plenty of options, and furthermore, you'll have the peace of mind that you're working with a well established brand.
The biggest con is once again… the price tag that comes from such a brand.
Hickory Hardware
Hickory Hardware is another brand that's helped evolve the hardware industry over the years, and has actually been around since 1893.
They take a lot of pride in their designs and products, including their selection of acrylic door knobs. So you'll be getting high quality hardware from this company!
There's no reason to not work with this brand, they're affordable and top quality. It's a win win.
Peaha
Peaha is a newcomer to the industry, having only formed their brand and company in 2017.
Specifically, they specialize in creating door handles and knobs, as well as cabinet hardware. So all of their door knobs, including the acrylic ones, are created with the utmost attention to detail.
The only potential downside would be that they are a newer company, with less reviews and reputation than some others on this list.
LBFEEL
LBFEEL is a small brand that sells products like door knobs, pulls, and handles. They don't have their own shop, and instead use bigger platforms to sell their wares. Like Etsy or Amazon.
Because they're not a big brand or manufacturer in their own right, they don't have as much credibility as some of the other brands on this list.
But they do have some lovely designs for sale.
LONTAN
LONTAN is a brand similar to LBFEEL, and sells their products online. But LONTAN seems to focus specifically on Amazon, and has a nice storefront set up on the site.
Additional notes on the brand would be that they have good reviews on their items, and they have a fairly wide selection.
But, since they are a small brand, they don't have as much experience or credibility as industry leaders do.
NAUBEA
NAUBEA is another small brand that produces acrylic knobs, as well as other products that fit into their niche. Which is described as "bathroom, bedroom, and kitchen hardware".
They have an Amazon storefront, but you can also find some of their products being sold on eBay and a few other online markets.
The only real drawback here is, once again… working with a small and unestablished brand.
NIZADO
NIZADO is a brand that focuses purely on door knobs and pulls, but they mostly sell online. Much like the previous brands that I've been mentioning, although they are arguably a bit more well known.
They have a nice Amazon storefront, and many of their products are affordable. So they'd be a great option for someone on a budget.
But once again, they're not as established as some of the earliest brands we talked about.
JEREVER
JEREVER is a bit different from all the other entries to this list, because they're actually known for one of their acrylic products instead of being known for hardware overall.
Their breakout product is actually acrylic furniture legs, but they sell acrylic knobs online as well. And you can find them on Amazon.
Downsides would be the small size of the brand if that's something you care about.
BonKuDoo
BonKuDoo might be the smallest of the brands mentioned on this list, but they mainly create cabinet handles and knobs…
Which means it is their speciality, and their focus as a brand isn't split across a wide array of products. Plus, they do have good reviews on sites like Amazon.
Mengico
Mengico is the last small brand on this list, and is one that proudly displays their selection of acrylic knobs on the front of their Amazon storefront.
So, in comparison to some of the other brands on this list, they probably place the most emphasis on the exact product we're discussing.
The only downside is their small size, and lack of reviews.
Goldenwarm
Goldenwarm is the final brand of this article, and for many, it might be considered the best one.
Because, as Goldenwarm themselves state on their site, they offer a "complete supply chain. And in addition to designing their products, they monitor their production to ensure quality as well.
Where can you buy acrylic knobs?
After reading through this list of acrylic knob manufacturers, I'm sure you now have a good idea of where to buy them.
But to summarize, the best place to look for acrylic knobs would probably be online. Because it's not something that every hardware store would carry.
Specifically, sites like The Home Depot, Amazon, and Etsy could not only provide you with some listings… but also some ideas of brands to look into.
Happy shopping!