In interior design and home decor, small things matter. Marble knobs combine elegance and functionality, mixing sophistication with utility. Marble knob brands matter as discriminating homeowners and designers enhance living spaces to new heights. This post introduces the top 15 marble knob brands that have revolutionized workmanship and innovation worldwide. These brands have transformed knobs into works of art that enhance furniture and settings, from classics to avant-garde.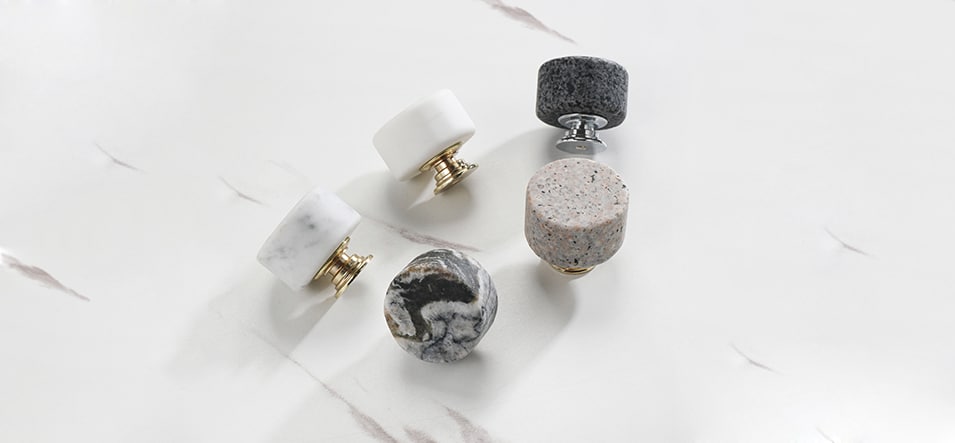 Marble knobs are ornamental and practical hardware for doors, cabinets, drawers, and other furniture. Marble is used, noted for its beauty, durability, and exquisite patterns. Marble knobs are designed to be grabbed or rotated to open and close doors or drawers while adding refinement to the furniture or area. They range from simple to elaborate in shape, size, and design. Marble knobs are popular because they add tactile enjoyment and visual appeal to homes and suit a variety of design styles.
15 Best Marble Knob Brands in the World
Popular home furnishings company Shinyhandles places an emphasis on a cozy and timeless style. Shinyhandles is a go-to option for designing warm living spaces because of its extensive selection of furniture, dcor, and accessories that incorporate classic and modern inspirations.


Strengths
Timeless styles.

Superior materials.

Matching groupings of hardware.

A well-known brand.

Worldwide shipping.
Weaknesses
Premium cost.

Limited availability outside of large cities in physical stores.
A lifestyle company called Anthropologie is well-known for its eclectic and bohemian-styled home decor, apparel, and accessories. Anthropologie offers a carefully curated assortment that appeals to people looking for a fusion of old charm and modern aesthetics with an emphasis on original designs and handmade craftsmanship.
Strengths
Designs that are original and creative.

Superior materials.

Many different styles.

A focus on the details.

Strong reputation for the brand.
Weaknesses
The relative price point is higher.

Limited physical locations in some areas..
Knob.co, a store of contemporary furniture and home goods, is well known for its svelte and minimalist designs. Knob.co offers a variety of furniture, lighting, and accessories aimed at a more urban and modern audience and distinguished by clean lines, cutting-edge materials, and a dash of artistic flare.
Strengths
Contemporary and sleek designs.

Affordability.

High-quality materials.

Modern color schemes

Internet accessibility
Weaknesses
Few opportunities for modification.

Some designs could be too straightforward for intricate settings.
Leevalley is an expert in producing high-quality lighting, hardware, and household items that have a timeless and classic aesthetic. Leevalley offers a variety of products that inspire a sense of nostalgia while blending in perfectly with modern houses. The company is renowned for its dedication to craftsmanship and attention to detail.


Strengths
Elegant and traditional styles.

Lifespan and robustness.

Pay attention to historical specifics.

Opportunities for customization.

Excellent client relations.
Weaknesses
Increased price range.

Restricted accessibility in some areas.
West Elm specializes in elegant, practical modern and mid-century modern designs. West Elm provides a range of furniture, textiles, and design products that appeal to a stylish and environmentally conscious consumer, with an emphasis on sustainable materials and a dedication to fair trade standards.


Strengths
Stylish and contemporary designs.

Sustainable purchasing methods.

Working together with craftspeople.

Several different finishes.

Nice website for users.
Weaknesses
It's possible that certain designs don't follow conventional aesthetics.

For some designs, there are premium prices.
Paxton Hardware is renowned for its opulent and premium home furniture and decor. Paxtonhardware offers a variety of products that ooze elegance and sophistication, frequently taking inspiration from historical styles, and is known for its grand designs and premium materials.


Strengths
Extravagant and elaborate designs.

Superior materials.

A focus on the details.

Opportunities for customization.

A reputable brand image.
Weaknesses
Hefty price tag.

Less real stores that are accessible.
Home goods business Crate and Barrel carries a mix of modern and traditional styles. Their variety of furniture, cookware, and decor products caters to many interests and preferences while focusing on functionality and aesthetic simplicity.
Strengths
A wide variety of styles.

Top-notch materials.

Inexpensive choices.

Extensive distribution system.

Both an online and offline presence.
Weaknesses
Designs may tend to be more straightforward.

Few opportunities for modification.
Bayside Luxe is renowned for its eclectic and globally inspired collection of furniture, home goods, and fine foods. Bayside luxe seeks to bring a taste of different cultures into homes with its vivid and varied product selection, making it a go-to place for anyone looking for unusual and out-of-the-ordinary items.


Strengths
Cost-effective pricing.

Global and eclectic styles.

Availability in both online and physical stores.

Regular discounts and deals.

Wide range of finishes.
Weaknesses
Few opportunities for modification.

Designs may vary in quality.
Popular bargain retailer American Drean HomeGoods has a constantly changing inventory of reasonably priced furniture and home accessories. HomeGoods is a favorite among those looking for trendy deals and hidden treasures for their homes because of its treasure hunt-like shopping experience.


Strengths
Affordable and cost-effective.

Regular updating of inventories.

Various designs are offered.

Potential for unusual discoveries.

Experience shopping at a physical store.
Weaknesses
Limited uniformity in the designs that are offered.

Fewer premium materials are used.
Wayfair sells furniture and home goods online. Wayfair lets users browse a vast selection of products to locate items that match their interests and budgets.
Strengths
Wide range of designs.

Cheap pricing.

For wise decisions, use user reviews.

Online shopping is easy.

Deals and discounts.
Weaknesses
Quality consistency throughout designs.

Problems with returns and exchanges
Amazon sells furniture, electronics, and more through AmazonBasics. AmazonBasics sells cheap, everyday items. Brand is known for basic, practical solutions for daily life. AmazonBasics sells high-quality electronics and furniture at low prices.
Strengths
Price-effective.

Lots many choices.

Online shopping is easy.

Alternatives to fast shipment.

Guided by client input.
Weaknesses
Lack of creativity in design.

Possible quality fluctuation.
Handlesbymood is known for its affordable furniture and modern design. For its innovative blend of cost and flair, Mood's designs are synonymous with affordable design. Functionality is paramount in each piece, which fits varied living setups. Handlesbymood's designs are modular and artful, combining form and function with a focus on practicality and adaptability.


Strengths
Cost-effective options.

Modern, clean designs.

Present everywhere.

Eco-friendly approaches.

Installation and assembly instructions
Weaknesses
Designs created in bulk might not be distinctive.

Few opportunities for modification.
The premium hardware products for the kitchen, bathroom, and home are Signature Hardware's area of expertise. The company offers stylish and long-lasting options for customers looking for faucets, fixtures, and accessories of the highest caliber.


Strengths
Stylish and elegant styles.

Superior materials.

Opportunities for customization.

A focus on the details.

Competent customer service.
Weaknesses
Premium cost.

Less selection in comparison to bigger businesses.
The manufacturer of beautiful cabinet pulls and knobs with a primary focus on kitchen and bathroom cabinets is Stoned. Stoned provides a variety of hardware alternatives with an emphasis on fine craftsmanship and elaborate designs to improve the appearance of furniture and cabinetry.


Strengths
Decorative and artistic designs.

Premium components.

Pay close attention to detail.

Comprehensive collections.

Presence of showrooms in specific areas.
Weaknesses
Increased price range.

Limited reach in comparison to more prominent companies.
Another well-known name in the hardware sector is Emtek, renowned for its aesthetically pleasing and customizable door hardware. Emtek provides a range of styles and finishes for door knobs and handle sets that enable homeowners to add a distinctive touch to their doors while preserving practicality and security.
Strengths
Flexible and versatile designs.

Superior materials.

Opportunities for customization.

Put an emphasis on skill.

Strong reputation for the brand.
Weaknesses
Premium cost.

Restricted accessibility in some areas.
Where to Buy Marble Knobs
There are several places to buy marble knobs, both online and offline:
Official Brand Websites
The majority of the above-mentioned manufacturers have official websites where you may browse and buy their marble knobs.
Online Retailers
Large online retailers like Amazon, Wayfair, and Overstock sell a variety of marble knobs from different manufacturers.
Home Improvement Stores
Many retailers, including Home Depot, Lowe's, and Menards, offer a variety of marble knobs.
Furniture and Decor Boutiques
Unique marble knob possibilities might be found in specialty stores that specialize in hardware and interior design.
Local Artisan Shops
For custom-made and handcrafted marble knobs, look around your neighborhood's artisan stores or at craft festivals.
Interior Design Studios
Work with interior designers who may point you in the direction of distinctive and expensive marble knob selections.
Marble knobs are creative accents that can improve the appearance of any living area. They are more than just practical hardware. You can get the ideal marble knobs to complement your interior design goals thanks to the many businesses that offers many designs and styles. The best 15 marble knob companies described above offer a wide range of possibilities, guaranteeing that your living spaces ooze luxury and sophistication regardless of whether you choose modern minimalism, classic elegance, or something in between.