Entry sets are some of the most important pieces of hardware in a home, both in terms of aesthetics and safety. 
Because they're not only visible from the exterior of your house but the interior as well. And plus… they're responsible for entering, exiting, and keeping unwanted visitors out of your home.
Today's article is all about entry sets, and more specifically, the brands you can trust to produce high quality ones!
But first…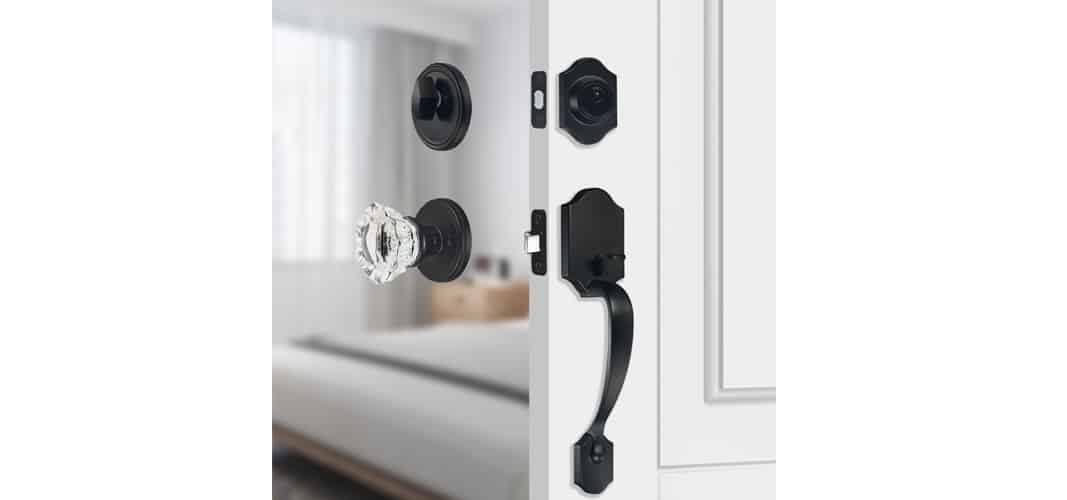 Entry sets are the knob or handle sets that are placed on exterior doors of a home, and typically contain a lock to protect your house from intruders.
They differ from interior sets in the way that interior sets are placed on bathroom doors, bedroom doors, etc. Whereas entry sets, or exterior sets, are for front doors or back doors.
Top 15 Entry Set Brands In The World
And now.. Onto the brands themselves!
Premier Lock
Premier Lock is a big name in the locksmith industry, meaning that they can certainly be trusted to create entry sets that will ensure your home's safety.
But they do tend to focus on function more than looks, so their products might not be ideal for people looking to find aesthetically pleasing entry sets.
And because of their reputation, the pricing for their products can be quite high.
Shinyhandles
Shinyhandles is a company that specializes in doors, and thus, they also have a lot of experience in creating and installing entry sets.
This means that their products are of high quality, and they also pay attention to the aesthetic side of hardware design.
The prices are also a bit lower than those of the earlier brands on the list, but if safety and technologically advanced sets are more important to you then you may still prefer the earlier options.
Kwikset
Kwikset is a brand similar to Premier Lock, and places a lot of emphasis on the locksmith side of making entry sets.
So the same considerations apply to this company: their products are regarded as quite safe, but they can be expensive, and they don't have much variety in terms of design.
Schlage
Schlage has been in the hardware space since 1920, and they've evolved to become industry leaders.
Their products are often technologically advanced, they're equally as safe as the entry sets from the previous brands, and they even put a bit more emphasis on making their products stylish.
But of course, all of this does come with a hefty price. So just be aware of that.
eModern Decor
This brand, as its name suggests, focuses on selling modernly designed products. Most specifically, they create kitchen-related products; but their catalog also includes entry sets.
This brand is perfect for someone who likes modern decor, but since they don't sell any other types of designs, it won't be ideal for everyone.
Baldwin Hardware
Baldwin Hardware is another industry leader that's been on the market for a long time! And throughout the years, they've created quite the selection of beautiful designs that are renowned for their quality.
So, unlike eModern Decor, they're great for someone who needs plenty of options to choose from. But the brand is quite pricey, so be prepared for that!
Probrico
Probrico is a brand that focuses on home hardware, ranging from door-related products like entry sets to cabinet hardware for your kitchen.
Their door knob sets are quite affordable, but they aren't as secure as some other entry sets. So if safety is your top concern then this may not be the brand for you.
Defiant
Defiant is a line of lockable entry sets that are produced specifically for the Home Depot by a manufacturer in Taiwan.
They are made to be extremely affordable, but they lack the design and top-notch security elements of sets from more dedicated brands.
Whether or not you choose this brand will depend on your priorities.
Copper Creek Hardware
Copper Creek is known for creating hardware that walks the line of being affordable and being high quality.
So, it's perfect for people who don't want to sacrifice quality for a lower price or vice versa. Furthermore, they do have quite a bit of different designs to choose from. So there are plenty of options within the brand.
Delaney Hardware
Delaney Hardware has several different hardware brands under its umbrella, each of which sell entry sets.
But this company's prices can be quite steep, so they're probably not suitable for someone working with a tight budget. Despite having many high-quality products to offer.
Goldenwarm
Goldenwarm is a company that specializes in cabinet hardware, but on their Amazon storefront at least, they also offer some entry sets.
Because they aren't known for this particular type of hardware, they might not be the most solid option for professionals. 
But if you already like this company, and you're looking for something affordable, this is always an option.
Berlin Modisch
Berlin Modisch is a globally recognized brand that features many companies within its main umbrella, and they mostly focus on hardware.
They have many different entry sets for sale, with a variety of price points. So you'll probably be able to find something that fits within your budget.
And you'll have the peace of mind provided by working with a respected brand.
KNOBWELL
KNOBWELL is a brand known for their door knobs and handles, since they have a wide variety of options for them available.
Their array of products features many different styles, and they're quite affordable as well! So this is a great choice for you if you want something that looks nice but doesn't come with a giant price tag.
Knobonly
Knobonly, as the name suggests, is a brand that focuses completely on selling different types of door knobs. This includes interior and exterior options, aka entry sets.
Their products are on the affordable side, but there isn't much variety in terms of design and the quality isn't as top notch as some of the options mentioned earlier.
So as always, just make sure to weigh the pros and cons.
Dynasty Hardware
Dynasty Hardware sells door knobs and levers, but on their Amazon storefront, they also offer some entry sets from other brands that they feel match up with their aesthetic.
Once again, this brand has affordable options, but they also don't offer the mastery and dedication of some of the earlier companies.
Where can you buy entry sets?
The best way to buy entry sets is to go through large companies like Lowe's or Home Depot, since they sell products from most of the brands mentioned on this list. Sites like Amazon are other options.
This has several benefits like allowing you to use a more familiar interface (if you use these sites regularly), and combining these products with others you might need to make one big order.
So it could simply cut your shopping time down, and make things more efficient.