Handles and knobs often go head-to-head, with people split on which type of hardware they prefer.
But no matter the choice, further decisions will ultimately have to be made about which material you want these products to be made of.
And for those who choose handles, leather is a popular option! 
Therefore leather handles are the topic of today's article, where we'll be discussing where to find high quality ones.
But before we get into that…
What are leather handles?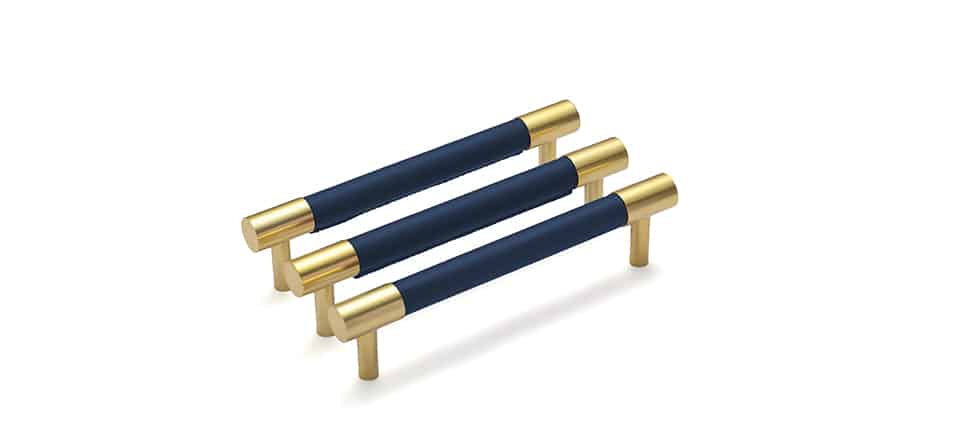 Leather handles are handles, made out of leather, that can serve various functions ranging from being bag/basket handles to being pulls on drawers and cabinet doors.
You won't see them being used as much for the latter use as the former, but that means they can be quite the statement piece if you do decide to use them for that purpose.
Plus, they tend to be quite durable.
Top 15 Leather Handle Brands In The World
So now that we've covered what they are, let's talk about where to find them…
Hide & Drink
Hide & Drink is a brand that specializes in leather products. So it should come as no surprise that they're at the top of the list for their leather handles, which they have a large selection of.
There are different colors, slightly differing styles, and different sizes of these handles available. So the brand definitely offers more options than others.
But because of this, Hide & Drink leather handles do tend to be a bit pricier than smoe other brands.
Shinyhandles
Shinyhandles is a small brand that you'll likely spot in various online marketplaces, mostly selling drawer pulls of some kind. Including leather ones.
They have fairly good ratings, and they're not as expensive as some other brands; but you do need to keep in mind that they lack the reputation of more established names in the industry.
OLAYA
OLAYA Hardware is a manufacturer of furniture hardware, and features a set of leather handles that you can find on their Amazon store as a part of their catalog.
These handles come in a few different colors and a few different sizes, so there's a bit of variation depending on what you need. Plus, they're fairly affordable.
The only downside is that they don't focus on leather products, so they lack the mastery of the previous brand.
ESreake
ESreake sells a variety of knobs and pulls for cabinetry, and they're an especially notable brand in terms of making their products unique.
For instance, in addition to selling leather handles on their Amazon store, they also produce bamboo products and even knobs shaped like roses!
Once again, the only potential downside is that ESreake doesn't specifically focus on leather products.
XXJAY
XXJAY is a drawer pull brand that you might see fairly often when you're online shopping, and among their selection are leather pull sets.
These leather pulls typically come in packs of six, and with good reviews. But keep in mind that if you're only looking for one or two, you're likely to have extra pulls lying around if you go with this brand.
JIASENBAO
JIASENBAO has a wide selection of drawer pulls and handles, but they have an entire section of leather handles in their Amazon store.
This selection includes several different designs, as well as several different colors. So if you're someone who needs a few different options, then this may be the brand for you. Plus, they have great ratings.
Seimneire
Seimneire is another small brand with a few leather handles in their catalog. They cover a few different styles, including modern and more retro designs. Which is pretty rare within this niche.
But once again, they don't have much of a reputation. So you'll need to stay aware of that.
Brute Strength
Brute Strength is a brand that focuses specifically on leather products that can be used to improve your furniture, including a wide array of leather handles.
They come with great reviews on Amazon, and despite the fact that this is their speciality, their products aren't overpriced. Therefore the only "downside" would be that they aren't a big brand or manufacturer with a lot of reputation behind them.
Hiili & Kaala
Out of all the brands on this list, Hiili & Kaala probably features some of the most variety in terms of their products and the most reviews to boast on their profile. 
For example, whereas most of these brands only have brown and black color options for their leather products; Hiili & Kaala even have blue leather pulls! And you'll be happy to know that these handles are affordable as well.
LazaKay
Lazakay is a small brand that can easily be found on Amazon, and they sell fairly cheap leather handles in addition to several other leather-based products.
So although they don't have many reviews, they might be a good brand to check out if you're looking to buy some other leather products in addition to the handles.
Goldenwarm
Goldenwarm is a well known brand within the hardware industry, and they sell all sorts of cabinet, drawer, and door hardware. Including, of course, leather handles.
They are one of the most reputable brands on this list, making it perfect for someone who needs reassurance about a company before buying items from them. And to top it all off, they're quite affordable!
Hides & Knives
You've probably already guessed by the name of this brand that they focus completely on leather-based products. And additionally, their catalog is quite large, featuring over 5,000 different products.
As far as their leather handles go, they're handmade and thus… can be fairly expensive. But the quality and expertise that go into the handles make the price worth it for many people.
Sumner Street Home Hardware
Sumner Street Home Hardware focuses on creating modern and affordable cabinet hardware, and although they don't have many leather handle options within their catalog, they do have a few.
Keep in mind though, that since leather isn't their focus, you might not have much to choose from.
Amerdeco
Amerdeco is a small online brand that sells various types of hardware, and they do offer  a few different leather handles.
These leather handles are affordable, but a bit more pricey than others on the market; and you should also keep in mind that they don't have many reviews as of yet.
MY MIRONEY
MY MIRONEY is the final brand on this list, and they're one that focuses on all types of home hardware.
Their leather handles stand out from the crowd with a fairly unique design, and they have lots of great reviews and ratings on these products. Plus, they're really affordable as well.
Where can you buy leather handles?
Leather handles can be hard to find, especially in stores. 
So that's why the most efficient way to buy them is either by working specifically with a manufacturer that you've made a deal with (especially if you need to buy in bulk), or by shopping online.
If you opt for shopping online then you should note that Amazon and eBay are two great places to find these types of products.