Interior sets are an especially fun type of hardware to pick out, because they'll end up gracing all (or most) of the doors inside your home.
But as we all know, the brand you choose to buy these interior sets from can make all the difference between getting your hands on a high quality set and making a purchase you'll regret.
So today's topic is… the best interior set brands in the world! And by the end of this article, you'll know exactly where to look.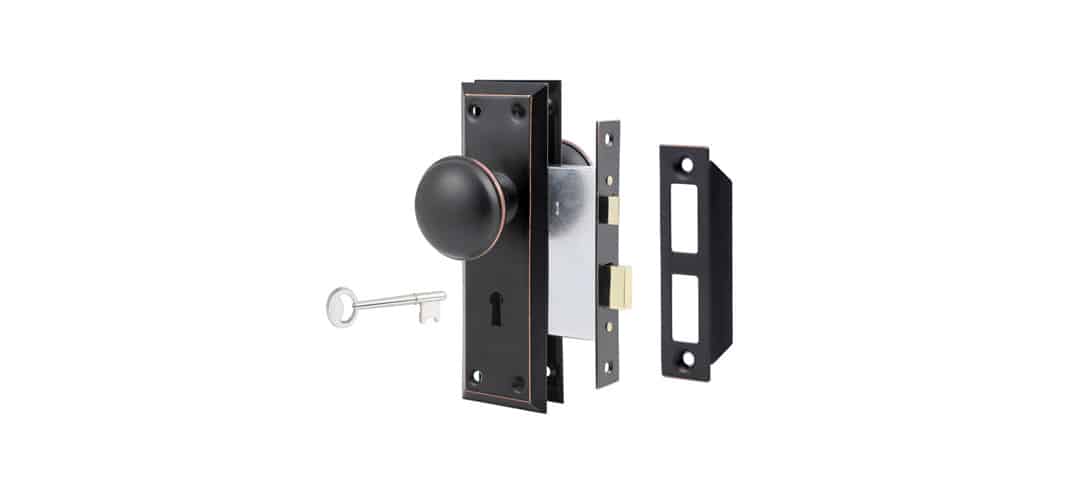 Interior sets are essentially the opposite of entry sets. So whereas entry sets are seen on front and back doors, interior sets would be seen on bedroom doors, bathroom doors, etc…
So these are the knobs and handles that you use on the inside of your home, versus the outside.
Top 15 Interior Set Brands In The World
Now, without further ado, onto the brands themselves…
Baldwin Hardware
Baldwin Hardware has been a big name in the hardware industry since the company formed in 1946, so it goes without saying that they have a great reputation built for themselves and their products.
And many of these products are, of course, beautifully designed interior sets. Which means you'd have plenty of options in terms of aesthetics if you did decide to buy your sets from this brand.
The only potential downside is that the sets can be quite pricey, as this company is so high quality.
Defiant
Defiant is a line of door knobs that was commissioned specifically for The Home Depot, and it's mostly focused on lockable sets and security.
But they do have a few different options for interior sets as well, most of which are quite affordable. However, one big con of this brand is that their knobs lack the professional design element of bigger brands and tend to be on the plain side.
Schlage
Schlage is one of the most well known brands in the hardware industry, and is constantly evolving to offer top of the line products.
Meaning that their broad selection of interior sets always includes fresh and modern designs, and the newest technology in the space. Plus, they're obviously a trustworthy business, due to their long standing reputation.
Just beware of their high prices, if you're working with a budget!
Shinyhandles
Shinyhandles is a company that focuses heavily on creating knobs and handles with durable, high quality locks. So in terms of safety, they're definitely a great option.
And they do have a wide array of interior sets to choose from, some with varying designs and materials. But their products could be seen as quite plain to some, and they do tend to be on the expensive side.
Delaney Hardware
Delaney Hardware is a brand that encompasses several smaller lines of hardware, all of which feature their own take on interior sets.
All of them have the following traits in common: they're high quality, durable, well designed, and expensive! So if you're willing to make an investment in these products then you won't regret it, but you might need to pass if you're on a tight budget.
Prime-Line
Prime-Line is mostly known for creating hardware replacement parts, but they also sell some regular products (including interior sets).
Depending on which of their interior sets you choose, they could be an affordable option. However, they don't measure up to some of the previous brands we've listed in terms of design.
Copper Creek Hardware
Copper Creek Hardware is a brand that markets themselves as a place where you can find high quality hardware, for a reasonable price. And they're constantly trying to find a balance between affordability and quality.
Although they do focus mainly on exterior sets, they do have a few different kinds of interior sets for sale as well. So if you're working with a budget, they might be worth checking out.
Premier Lock
Premier Lock is best known for creating lockable sets, and security is their top priority. But as you'd expect from someone in this industry, they also sell some interior sets.
The downsides to this is a high price, brought on by the popularity of the brand; and also a lack of design compared to some other brands. Plus, there might not be many options to choose from.
Knobonly
Knobonly is a hardware brand that focuses solely on creating doorknobs, as the name suggests. And their catalog ranges from exterior sets to interior ones.
They have a popular Amazon storefront, and lots of reviews on the site. But although their products are affordable, they don't stand out in terms of design. So if aesthetics are one of your top priorities then you may want to look elsewhere. 
Goldenwarm
Goldenwarm is a fairly popular hardware brand that sells cabinet hardware, among a few other products such as interior sets.
These sets come with quite a bit of variation in terms of design, and you can choose from a couple of different materials as well. Plus they're more affordable than some of the other brands we've talked about today.
Probrico
Probrico is a well known brand within the hardware industry, with a lot of good reviews to back their credibility up.
They have a wide selection of interior sets, so there's plenty to choose from! And additionally, they're quite affordable. So this is a great brand to work with if you're on a budget but don't want to feel limited in your options.
KNOBWELL
Similarly to Knobonly, KNOBWELL is a company entirely dedicated to making knobs and handles.
And this means that they have a wide array of options for you in terms of interior sets; different designs, styles, etc. Another bonus of this brand is that their products are also affordable!
NEWBANG
NEWBANG is probably best known for their high security exterior sets, but they sell interior sets as well.
Including many different styles and materials. But a major downside to this brand is that their products tend to be pricey. So be ready for high prices if you do decide to go with this brand.
Ilyapa
Ilyapa is a home supplies store with many different products for sale, but among these are a solid selection of door hardware.
Most of the options are on the pricey side, but there are plenty of good reviews to back the price up. So you can feel safe making the purchase, if it's within your budget.
Design House
Design House is a brand that produces far more than just hardware, but you can find many interior sets among their collection.
And for the quality of the products they offer, the price is affordable. Plus, it's nice that you can buy many different things from the same brand (if you also need non-hardware products for your home) for a more cohesive finish.
Where can you buy interior sets?
There are a few different options when it comes to purchasing interior sets; you could go to a store that sells them, buy them online, etc.
If you do choose the online route then sites like The Home Depot or Lowes could be helpful to find the products you need. Although Amazon or eBay could be seen as cheaper alternatives.