Wood knobs are a great option if you like carpentry, manufacture furniture, or are just trying to add a little rustic elegance to your home décor. Your furniture and cupboards may look better overall with the addition of some modest but important details. We'll go into the world of wood knobs in this post, presenting you to the top 15 brands worldwide, outlining their advantages and disadvantages, and advising you on where to buy these magnificent objects.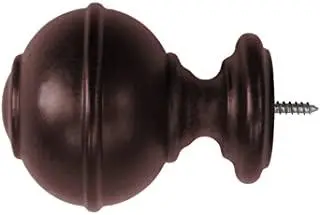 An attractive wooden knob combines practical convenience and aesthetic appeal. It is skillfully crafted as a little, often rounded piece of wood that is used as a sophisticated handle or decorative accent on items like cabinets, doors, and drawers. These knobs are versatile and compliment a variety of interior styles, from the timelessness of rustic settings to the sleek modernism of contemporary spaces, thanks to the variety of wood kinds, treatments, and patterns available. A wood knob offers an inconspicuous but powerful decoration for fine interior design, standing as a stunning departure from traditional metal or plastic handles with its intrinsic organic appeal and appealing tactile texture.
15 Best Wood Knob Brands in the World
A reputable company with a reputation for providing hardware solutions is Amerock. They respond to a variety of design choices by providing a wide variety of wood knobs that combine traditional and modern forms. Their range of options and reliable quality are their strong points.
Strengths
Several varieties of wood knobs.

High standards for all of their goods.

Modern designs that combine traditional and contemporary elements.

A long history of success in the field.

A few collections allow for modification.
Weaknesses
Some elaborate designs might be rather expensive.

Few possibilities are made by hand.

The accessibility of certain collections may change.
Outstanding workmanship and inventive ideas are hallmarks of Shinyhandles. They pay close attention to detail while making wood knobs, often integrating elaborate woodwork and finishes that make them stand out.
Strengths
Expertise in elaborate and minute patterns.

Several wood species and materials are used.

Unique and distinctive finishes.

Design specialization in the retro style.

Long-lasting workmanship for usage.
Weaknesses
Costlier owing to workmanship and exclusivity.

Fewer alternatives for lovers of contemporary design.

The accessibility of certain collections may change.
A family-owned company called Hardwick and Sons specializes in finely made wooden knobs. Their advantages are the one-of-a-kindness of each item and the individualized touch with handcrafting.
Strengths
Handmade and distinctive wood knobs.

Various types of wood with distinctive grains are available.

Possibilities for personal components to be customized.

Handcrafted quality and attention to detail.

Each item has a unique personality and touch.
Weaknesses
Handcrafted products have a limited output.

Customization lead times are longer.

Added expenses as a result of workmanship.
Oak and Forge is renowned for its wood knobs with a rustic, farmhouse aesthetic. Their knobs provide any room with a warm and welcoming atmosphere while often showcasing the inherent beauty of wood textures.
Strengths
Designs with a farmhouse or rustic feel.

Showcasing the innate beauty of the wood grain.

Contribute to creating cozy and welcoming homes.

A variety of sizes and forms for artistic purpose.

Long-lasting coatings and durability.
Weaknesses
A limited selection of contemporary designs.

Limited variation in designs using many materials.

Some designs could be rather pricey.

 
Luxterior is an expert in creating elegant and practical quality wood knobs. Their use of premium timbers and opulent finishes gives them strength and qualifies them for affluent environments.
Strengths
Use of premium, high-grade wood types.

Luxurious and lux finishes.

Design that pays close attention to detail.

A variety of original and standout designs.

Adaptability to many home design styles.
Weaknesses
Due to the use of premium materials, the price is higher.

few possibilities that are affordable.

In certain areas, availability could be restricted.
Popular among woodworkers and DIY enthusiasts is Bear Woods Supply. They cater many audience by providing a large selection of reasonably priced wood knobs in different designs.
Strengths
For DIY enthusiasts, reasonable cost is appropriate.

Various wood knob styles are available for selection.

Availability to a large audience.

Choices for numerous tasks that are affordable.

Varied designs are readily available for different preferences.
Weaknesses
Little emphasis on luxury or high-end designs.

May not be as well crafted as some other brands.

It's possible that certain styles won't be widely available.
The wood knobs from Paxton Hardware are renowned for their antique design. They are a top option for period-style furniture restoration because of their power in capturing the spirit of many historical eras.
Strengths
Knowledge of preserving old and ancient designs.

Many knobs of historical inspiration.

Suitable for restoring furniture in a vintage style.

Their designs pay close attention to historical authenticity.

A focus on unusual and distinctive antique replicas.

 
Weaknesses
Fewer choices for contemporary and modern designs.

A higher price point might result from historical accuracy.

The accessibility of certain antique fashions could be restricted.
Woodpeckers Crafts specializes in offering unfinished wooden knobs that you may personalize. This brand is ideal for people who want to give their furniture items a personal touch.
Strengths
For personalization, concentrate on raw wooden knobs.

Flexibility to inject a unique artistic touch.

Various wood kinds are available for customizing.

DIY project alternatives that are affordable.

Ability to coordinate knobs with certain furniture projects.
Weaknesses
Lack of alternatives for completed or pre-designed knobs.

Possibly not appealing to clients looking for ready-made designs.

Compared to some other manufacturers, limited stylistic options.
Modern and minimalist wood knobs are associated with ModKnobs. Their key selling points are their modern, clean-lined designs that easily fit into modern environments.
Strengths
Focus on contemporary and minimalist designs.

Their knobs have streamlined design and clean lines.

Seamless blending with modern interiors.

Attract clients looking for straightforward, unobtrusive knobs.

Flexibility to work with several current design schemes.
Weaknesses
Few alternatives are available for individuals looking for extravagant or traditional styles.

Customers asking for detailed features may not be catered to.

The accessibility of certain designs could be constrained.
The well-known furniture retailer IKEA provides a selection of wooden knobs as part of their product line. Their advantages include being reasonably priced and having a large selection of furniture styles that complement their wood knobs.
Strengths
They have a wide selection of wood knobs for their furniture.

Pricing that is ideal for customers on a tight budget.

Being able to coordinate wood knobs with IKEA furniture styles.

Accessible alternatives for online and in-store purchases.

Quality consistency brought forth by mass manufacturing.
Weaknesses
Wooden knobs provide few choices for personalization.

Might be lacking the individuality of handmade creations.

It may not provide high-end or premium designs.
Another significant supplier of wood knobs in a range of designs, The Home Depot serves both DIYers and experts. Their advantages include accessibility and the choice of browsing and making purchases online or in person.
Strengths
A wide selection of wood knobs in different designs.

Accessibility, both in-person and online.

Multiple brands and styles are offered at one location.

Suitable for both experts and DIYers.

The ability to simply search and contrast choices.
Weaknesses
Maybe lacking the distinctiveness of boutique brands.

Quality may change based on the brand chosen.

Little emphasis on handmade or artisanal designs.
For a variety of style choices, Beslag Online offers a large assortment of wood knobs. One of its advantages is a simple web interface that makes choosing and buying knobs a pleasure.
Strengths
A simple online tool for choosing wood knobs.

Many different wood knob patterns and styles are available.

The convenience of online shopping and browsing.

Access to several collections and brands in one location.

Various materials and finishes are readily available.
Weaknesses
Comparatively weak physical presence to brick-and-mortar establishments.

Maybe missing the individualized touch of boutique brands.

Quality could change across various collections.
Elegant and distinctive wood knobs are available from The Handle Studio to complement upmarket settings. Their advantages are their unique designs and top-notch materials.
Strengths
Unique and unique wood knob designs.

Premium-quality materials are highlighted.

Alternatives that are elegant and ideal for high-end decor.

Pay attention to the ornamental and aesthetic nuances.

A selection of statement-making knobs.
Weaknesses
Due of the distinctive designs and materials, the price point is higher.

May not provide choices for people on a budget.

Accessibility could be limited to particular areas.
Nice knobs! offers a beautiful selection of wood knobs in lovely patterns, living true to its name. Their aptitude for adorning cupboards and furniture with whimsy is their strength.
Strengths
Attractive and imaginative wood knob designs.

The capacity to provide décor and furnishings a fun touch.

Flexibility in adapting to different design ideas.

Widely accessible cost at an affordable level.

Unique and creative designs.
Weaknesses
Those looking for conventional or classic styles might not have many alternatives.

The availability of more subtle styles is limited.

Little emphasis on premium or high-end materials.
The company Clive Coffee noted for its coffee-related items, also sells wood knobs, which frequently combine metal and wood parts. Their distinctive designs and material fusion are their strongest points.
Strengths
Their knob designs use a mixture of metal and wood materials.

Unique material fusion for a distinctive appearance.

Entice clients looking for a contemporary or industrial feel.

Many designs for various types of furniture.

The presence of knobs that draw attention as focus points.
Weaknesses
Customers looking for all-wood knob designs might not be catered to.

Fewer options compared to those that are only knob-focused.

Regional differences in availability may exist.
There are several places to buy wood knobs, both online and offline. The above-mentioned brands frequently have their own websites where you may go through their collections and place direct orders. Additionally, a variety of wood knobs from different companies are available on online markets, like Amazon, Etsy, and eBay, allowing you to compare styles.
Knobs made of wood are more than simply useful accents; they also show skill and flair. The top 15 wood knob manufacturers we've spoken about provide a variety of options to suit various preferences and interests. There are wood knob brands available that may improve the aesthetic of your furniture and living spaces, whether you're seeking traditional, modern, rustic, or contemporary designs. Explore these manufacturers to get the ideal wood knobs for your upcoming project.